IFTTT is the fast smart way to connect apps.
Do you write WordPress posts then write the same thing on Facebook then pin an image to Pinterest. Well IFTTT could save you a lot of work. Don't bother with complicated resource hungry and often expensive plugins. IFTTT is lightweight fast and free. You can be pretty sure someone has already written an IFTTT applet to connect your platforms. You could write 1 WordPress post and have it automatically appear on Facebook and the featured image pin to Pinterest. Or any such combination. Want Facebook posts automatically appear in your blog? No problem.
IFTTT stands for "If this then that' basically applets are little programs that say if this happens in this web service then do this in another web service. You don't need to know any programming. Just go to the site and search for an applet to connect the 2 services you want. Someone will have written it already, and best of all the whole service is free! Of course you can create your own applets too.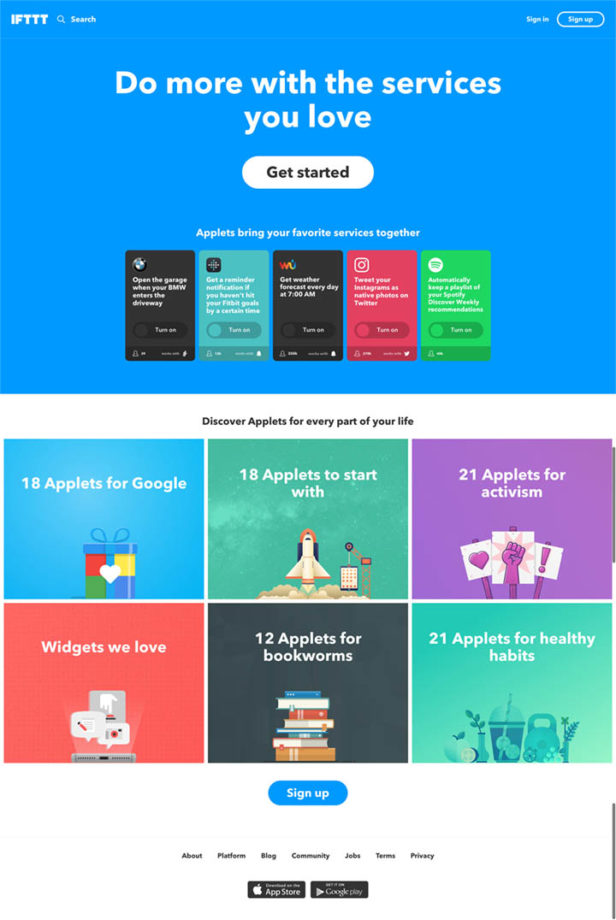 Just to give you some idea, just looking at WordPress as your main platform there are applets which can automatically send your new post to Facebook, Twitter, LinkedIn, Evernote, Medium, Dropbox, Delicious, Diigo, Tumblr and many many more. Got a woocommerce based business, connect your products to automatically show on your Pinterest page, or on Twitter with an image.
Of course you can also work the other way, your Instagram photos with a #wp tag could automatically post on your blog as well. Your YouTube videos could automatically post to WordPress.
Now I am talking WordPress because that is my thing but that is only scratching the surface of IFTTT. Connect YouTube to Pinterest. When you're tagged in a Facebook post automatically save it to Google Drive.
Its not just social media. When your Samsung washing machine finishes its cycle get a notification. There is one to turn your LIFX smart LED house lights to red when you open your GE fridge. I really am not sure why you want to do that but you can! I guess it would stop you leaving the door open?
So whats involved you say. Just go to the IFTTT site signup for a free account and start searching for applets.
To connect them you usually just have to give permission. You select an applet to activate for example WordPress to Facebook, you click on it. It opens Facebook saying IFTTT wants permission to connect. You say yes, it then asks for the WordPress details and you are done. It really is that simple. Get to it.